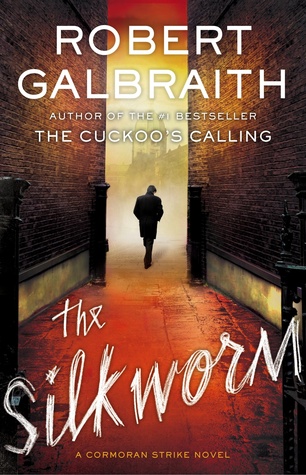 The Silkworm
is the second novel in the Cormoran Strike series picking up 8 months after the first book ends. Strike has more business now, but can't help being drawn to helping the odd wife of an author who has gone missing to find her husband. Owen Quine is an erotic fantasy writer who had one big hit in his career followed by an odd series of badly received novels. Quine finishes his next manuscript, gives it to his agent who encouraged him in the direction he was heading all along only to have her tell him that the book was nonpunishable. A very public argument leads to Quine returning home to grab his things and leaving with no word of where or why. Mrs. Quine hires Strike 10 days later under the pretense of having Strike locate her husband and tell him he needed to come back home. Shortly after the investigation starts, Strike finds Quine's body in an incredibly gruesome murder scene. Strike begins searching the dead author's final novel for clues as to who his killer could be as he was found killed in the same manor as his main character. The plot twists and turns revealing the truth bit by bit, finally leading Strike to the real killer and getting Quine's wife off the hook.
This book dealt with a very odd group of people that made it much more difficult to get into than the first novel in the series. The dead author's works are just so ... gross and weird. The whole time I kept thinking who on earth reads the types of books this man was supposed to have written to the point that it was a bit counterproductive and drew my attention away. This book was also much more brutally gory than the first in the series, so I would not recommend it for someone with a gentle constitution. Those issues aside, the story still kept me wanting to know what really happened, leading to a big whodunit at the end. Certainly not a good as the first one, but I'm still on board for what may come next.
I give this book 3 out of 5 stars
.