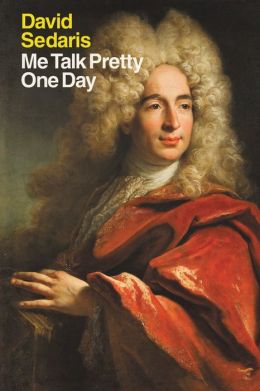 This is the 4th David Sedaris book I've read, and it certainly did not disappoint. Just like his other books,
Me Talk Pretty One Day
is a collection of short, humorous stories from the author's life. Many stories are from his childhood (again, this is usual), and several involve his family. I had a sudden epiphany with this book - I only just put two and two together that when he talks about "my sister Amy", he's referring to Amy Sedaris to comedienne. I'm a little slow, I know :) Also in the pattern of his other books, the last third or half of the book is all stories about his time when he first went to live in France. The title is from a story about taking his experience in a French language class taught in Paris, which (of course) was very funny.
One thing I have to say in regard to this book - it is totally worth it to listen to the audiobook. David Sedaris reads the book himself (as usual), but there is a story about when he was a kid and decides that his musical talent is to sing commercial jingles in the style of Billy Holiday (which is seriously the most random thing ever, lol) and he actually sings the lines like he did when he was a kid. It was the weirdest and most fantastic thing ever, and everyone deserves to hear it :) I want to record just that part to pull out and expose others to it. It's that good.
Anyway, I clearly loved this book. If you are in the mood for a weird point of view and consistent laughing, I highly recommend you give this a read.
I give this book 4 out of 5 stars.