In true Megan fashion, I have been very absent on my blog again as far as my crafting goes. It seems that I finish things in groups and then run out of things to blog about while I make more, you know? Well, this week I have actual progress to show :)
Last time
I reported on the
Outfit Along
, I was telling my plans and how excited I was about new yarn for the project. When the yarn arrived, I excitedly started swatching thinking all would be fine ... only to discover that this yarn that was sold as a sport weight is actually much closer to fingering weight. It did not seem to matter what I did, my gauge was WAY smaller than the pattern called for. I was so busy with my birthday and other goings on that I just set the project aside, feeling guilty that I hadn't started yet when I only had 2 months to finish this sweater. I was bummed to say the least. Last weekend though, Andi Satterlund released a new collection,
Quiet Days
, through Knit Picks and I knew exactly what I wanted to do :)
This past Sunday, I cast on the Sunshower cardigan, a cute lacy number with 3/4 sleeves. I'm knitting it up with some Lion Brand Cotton-Ease in Marshmallow from my stash and it's moving along quite nicely - as much as I know I need thinner sweaters, I love how fast things make up in worsted weight yarn. I've really only worked on this for a few hours and I already have the body joined and going :) The glory of making up (yet another) Andi Satterlund pattern is that I know exactly what I need to do to her patterns to get them fitting me (large bust and sleeves with extra large waist), so I don't have to hassle with swatching, plus I already had the yarn in my stash that had no definite project lined up for it yet - it was just meant to be!
I love how simple the lace pattern is on this - I mean, it's just evenly spaced holes. I know things will seem to go slower from this point on, but I am very enthused with the progress I've made in just 3 days. Hopefully I am able to whip this one out by the end of the month to be part of the OAL. As a side note, I seriously want to make everything in that Quiet Days collection. Check it out if you haven't yet!
I'm also planning on contributing a project to
Mandalas for Marinke
. I was so taken aback when I scrolled through my blog reel Monday morning and read
Wink's sister's sad announcement
on her blog. I've always loved seeing the pretty things that Marinke (Wink) crochets, and I even won an awesome giveaway from Wink last year ... meaning that I talked to her myself. She seemed like such a fun and lovely person, and the world is a sadder place without her. Mandalas for Wink is a project arranged to promote awareness of depression, and we are all going to make up a mandala using one of the patterns that Wink herself designed. I'm sure she would be thrilled to see her work used for such a good cause. I just have to choose which pattern to make up :)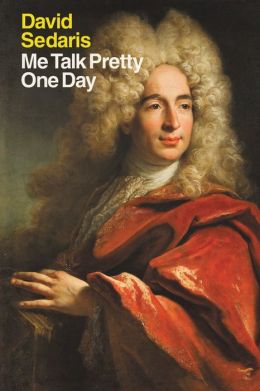 On the literary front, I have been absolutely sailing through books lately. I've finished 4 this past week and will probably finish this latest one today. I even sound crazy to myself. Today's read is a quick one I've wanted to get for quite a while, Me Talk Pretty One Day by David Sedaris. I just love him, seriously, his books are just so dang funny. This is the 4th book of his that I've read, and it is certainly not a disappointment - I can't believe I haven't picked this up before now. I've been laughing most of the day reading it :)
I've also sewed a failed muslin this week for a dress I planned ages ago - the muslin was seriously so big that it wasn't even an option to just take things in a bit. I have to start completely from scratch in a smaller size. Ugh. I've decided to wait and clean up my sewing room first though. It's gotten pretty junky in there, especially when you add my epic birthday gifts (which I can't wait to show off) - all the more reason to clean things up, so I can brag, lol.
So that's everything this week :) Head over to
Gracey's Goodies
and see what others have in the works.